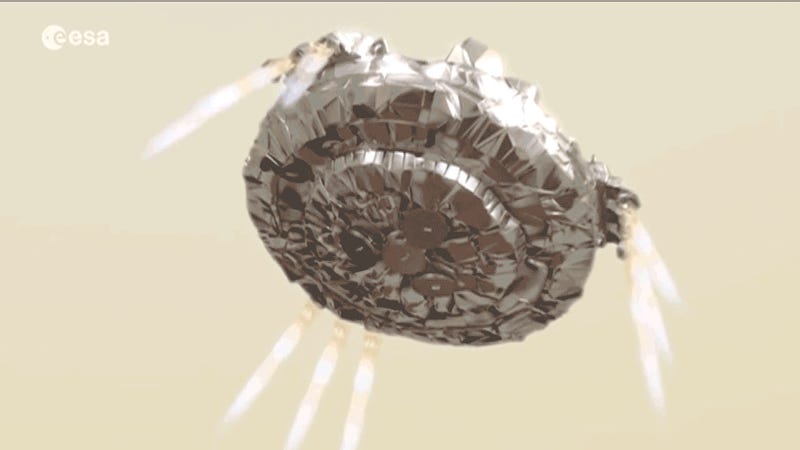 Picture Credit: European Space Agency
Update: Gizmodo reports that, "the European Space Agency attempted to land a probe on Mars, and things went bad. While the ExoMars mission team continues to piece together why its Schiaparelli lander lost contact with the Earth, NASA has now obtained photographic evidence of what appears to be a crash-landing."
Giznodo.com reports, "A joint mission led by the European Space Agency and Roscosmos arrives at Mars (NASA fun facts) next week, and its first order of business will be to make history. If all goes well, NASA is about to lose its bragging rights as the only space agency to successfully land probes on the Red Planet. ExoMars, an astrobiology mission designed to hunt for signs of geologic and biological activity on Mars, is on track to reach orbit on October 19th." The Schiaparelli Lander (above) caught the attention of the Red Planet Report which featured the relatively flat Equatorial landing site called the Meridiani Planum region which includes a landing ellipse, measuring 100 x 15 km in the southern highlands of Mars. A Trace Gas Orbiter will also be deployed to enter into a Mars orbit. ESA explains, "A key goal of this mission is to gain a better understanding of methane and other atmospheric gases that are present in small concentrations (less than 1% of the atmosphere) but nevertheless could be evidence for possible biological or geological activity."
NASA usefully provides a listing of current and past (non-classified) Mars missions:
Current and Past Missions
The Mars Opportunity Rover landed in 2004 near the Endurance crater close by and its past five years of peregrinations has confirmed the existence of water on the planet.
Picture Credit: ESA/DLR/FU
So, we will know how the landing goes next week! Podesta meetup? Some people claim that NASA already visited Mars in 1979 during the Viking missions, if you believe Exopolitics… 
YouTube still has the Coast-t0-Coast transcript up for your listening pleasure and there is enough atmosphere to walk around on Mars after an acclimatization program.